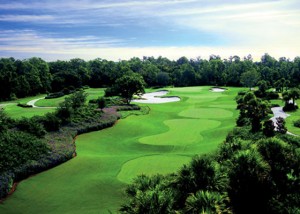 As my blog readers know I am an avid golfer who specializes in golf course communities. On occasion, I'm asked about "the golf course community of Sawgrass" in the heart of Venice. Actually, it's not really a golf course community at all. But because it is surrounded by 2 golf courses, it's easy to understand the confusion.
Sawgrass is a gated community between East Venice Avenue and Edmonton Road. On the western boundary of Sawgrass sits the Capri Island Golf Club...semi-private. On the northern section of the community, the Waterford Golf Course has nine holes along the Sawgrass perimeter…also semi-private. As a result, a good number of the 580 homes in the community enjoy the benefit of manicured golf course views, without the cost or obligation to play. This is a terrific option for the part time resident to enjoy nearby golf without any year round fees.
Most homes are no older than 1997. And new homes are still being built by Neal Communities, a reputable local builder. Fees are modest too…around $100 per month for a gated community.  Home prices range from the mid $300's to above $5oo's.  Drop me a line if you would like a sample listing e-mailed to you.
Also I can help with information on the Venice Golf and Country Club
Patrick Doherty 1801 Main St Sarasota, FL 34236