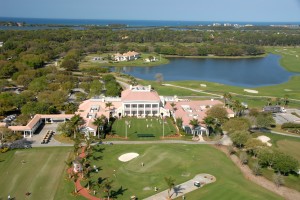 The Oaks Club is a private golf and country club community developed on more than 1,000 acres situated on the east and west sides of US 41 in Osprey, Florida, just 12 miles south of downtown Sarasota.
I am in receipt of the recent Oaks Club circular touting the latest developments in this high end, 750 home private golf club community in Osprey, FL.
Firstly, they are proud to be celebrating their 30th year in operation. To coincide with this milestone, they are boasting that they have 536 equity members…an all time high. This speaks volumes about their financial stability, which only comes through mandatory membership for every property owner.
Secondly, and more importantly, the membership has voted overwhelmingly to undergo a course renovation to the "Heron" 18. ( The "Eagle" renovation was completed a number of years ago. ) Work will begin in September on new greens, irrigation systems, bunker refurbishment and all new cart paths. In addition to a more pleasurable golf experience, members believe that their property values will be positively affected.
Each equity member will contribute $4,500 to the renovation, but this full amount will be refundable as it will be added to the equity portion due upon departure. Currently, $39,900 is refundable but that will rise to $44,400 after the completion of the renovation.
As a former member of the Oaks Club ( 2005 to 2010 )  I can answer any questions you may have. E-mail or call me for property options in all price ranges in the Oaks