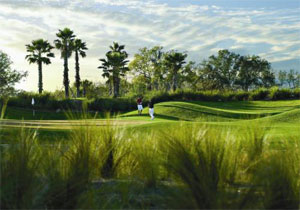 When you think of private golf at Lakewood Ranch, the two Arnold Palmer designs immediately come to mind.
And why not ? Cypress Links ( 2001) and King's Dunes ( 2005 ) are terrific signature courses adjacent to a beautiful Spanish Med clubhouse. But did you know that there are actually three courses included with membership ?
Royal Lakes Golf Course, a Rick Robbins design, has been the overlooked sibling as it's "off campus" and has no clubhouse. But that's all about to change.
The master developer of Lakewood Ranch, Schroeder-Manatee Ranch Inc.,  has finally announced plans to build a long promised 12,000 square foot clubhouse specifically for Royal Lakes. A driving range will be added as well as a paved parking lot.
A group from my home course ( The Founder's Club ) recently played a reciprocal there and the course received unanimous praise. But because it had a trailer for a pro shop, and a shell parking lot, it never really enticed many of us to check it out.
And who do we have to thank ? New home buyers. Builders in Lakewood Ranch have sold over 380 new homes in 2013 through the end of July.  That's an 8.5% increase from 2012. And new home buyers means new golf members.
So its off to play Royal Lakes for me. I will blog about it next week…if selling real estate doesn't get in the way!