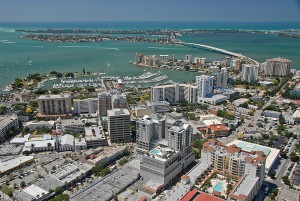 Sansara –  Downtown Sarasota's newest luxury condo to be built is a 10-story building with 17 units in Burns Square at Pineapple Avenue and Ringling Boulevard.
Sansara will have units ranging  from  2,280  – 2700 a square feet with one penthouse unit with 4,555 square feet, water views,  14 ft  ceilings complete with an outdoor bar and fireplace.
The developer is expecting to sell the units for approx.  $600 per square foot. This compares with prices back in 2000.
Features of the Sansara include a Zen-themed common area on the second floor, a pool with cabanas and an outdoor bar,  fitness center, spa and yoga area. The plan is also for 3600 square feet of commercial space on the first floor.
It seems Luxury real estate is back in  Downtown Sarasota. Sansara joins other projects recently announced  : Aqua tower on Golden Gate Point,  Jewel on the corner of Main and Gulfstream,  the "Q" town homes on Ringling, and a 144-unit tower with hotel at the corner of U.S. 41 and Gulfstream.
For more information on any of these projects call me 941-993-3159
Maureen Doherty 1801 Main St Sarasota, FL 34236