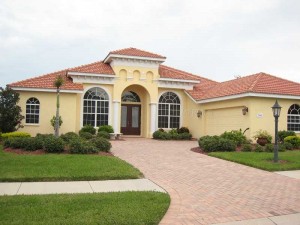 One of the most common questions I get from clients buying golf course property relates to closing costs. "How much are they ?"  one would ask. My answer is always a counter question. "Well, will you be paying cash or financing ?".  Closing costs are far less expensive for cash buyers. Allow me to explain. Florida has no "land transfer tax", so the city and state make their money off real estate transactions by placing a tax on any new loans recorded as mortgages. The City and County fees on a new loan run 0.20% ( for example a $450,000 loan carries "doc stamps" of $900 ). The State fees on a new loan are 0.35%. ( that same $450,000 loan carries state "doc stamps" of $1,575 ) The bigger the loan, the larger the doc stamp charge.
When getting a mortgage, one can also expect the following from a financial institution…Appraisal ( $400 est.) – Survey ( $350 est.) – credit report fee ( $30 est.) – Tax service contract ( $80 est.) – Flood certification fee ( $20 est.) – Underwriting or loan certification fee (  $395 est.) –  and Title Insurance …approx. 0.55% of the actual purchase price ( on a $600,000 purchase $3,300 )
Anyone paying cash would not have to pay any of the above ( although we would recommend the title insurance.)
Everyone ( cash or mortgage customers ) do pay the following …Legal fee ( $500 est.) – Settlement or closing fee ( $ 125) – Abstract Title or Lien search ( $85 est.) – Title examination ( $75 est.) – Endorsements ( $200 est. ) – Inspection ( $350 est. ) – Recording fees ( $200 est.) – and misc. couriers.
So, as you can see, the closing costs for cash buyers are far more modest.
Don't hesitate to contact me if you have any further questions about Sarasota golf course real estate.
Patrick Doherty 1801 Main St Sarasota, FL 34236