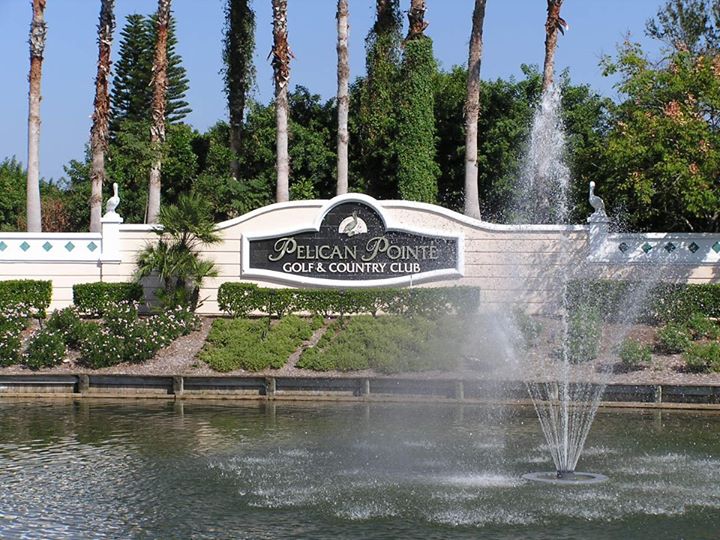 Pelican Pointe Golf and Country Club is an oasis that awaits you. Whether you desire golf, tennis, swimming, fitness, weddings, anniversaries or social functions, Pelican Pointe is the place that has it all. Imagine if you could be on vacation….everyday. Situated near the heart of Venice, Florida, just south of Sarasota, this award winning, 27-hole golf course is sure to pique the interest of golf enthusiasts. Tennis courts, a junior olympic size swimming pool and fitness center await the non-golfer. Social activities and amenities are abundant. The clubhouse is the focal point of the nightlife for the community.
About the Course
Membership Fees: play in season, or join yearly, including non-residents… for more info on all the membership options Email me.
27 Holes…semi private
Course Length:
Meadows & Preserve Ratings:
Gold 75.4 / 141 / 7182 yards
Blue 72.2 / 133 / 6619 yards
White 69.8 / 121 / 6053 yards
Architect: Ted McAnlis
Preserve & Hatchett Creek Ratings:
Gold 74.3 / 145 / 7009 yards
Blue 71.6 / 133/ 6477 yards
White 69.3 / 116 / 5918 yards
Architect: Ted McAnlis
Location:
499 Derbyshire Road
Venice, FL map
Other Amenities: real grass practice facilities, and 5000 square foor putting green
Pat's Rating: ✮✮✮ 1/2 out of 5
Pat's Take:
Since 2004, I have only played the course a handful of times. It continues to win the "Best Semi Private Club in Venice" year after year. Easily 9 or 10 times in a row. That's because it's a comfortable, player friendly layout that's in great shape with 5 sets of tees to satisfy every golfers skill level. Pretty too. Winds through preserves and lakes. I had one client who simply had to know how far the beach was exactly. From the time we left the get to the time we parked at the Venice Jetty…12 minutes. He was sold. Every type of living accomodation and price levels too. Perfect for the part time seasonal resident. Lock up and leave this fully gated community with confidence.